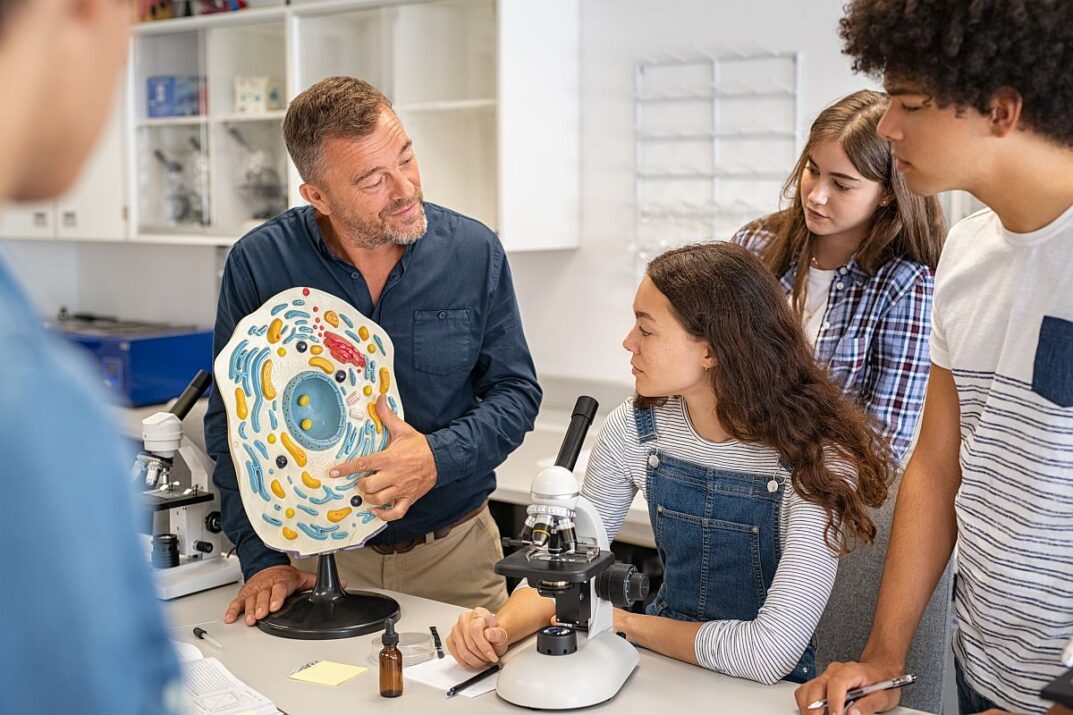 From motivating us through challenging times to helping us discover our passions, teachers play an important role in our lives. And when we meet a teacher who truly inspires us, it's not uncommon to feel that influence for many years to come.
Sometimes, teachers have such a profound impact on us that we long to show the rest of the world just how great they really are.
If you have a teacher who makes you feel this way, here are 17 awards to help you recognize them on a national level.
Rosenthal Prize for Innovation and Inspiration in Math Teaching
The National Museum of Mathematics (MOMath) sponsors this math award for upper elementary and middle school teachers. Its goal is to "recognize and promote hands-on math teaching" and carries a cash award of $25,000 for the single best math activity. There are also five additional monetary awards for other innovative activities.
Recipients of the award also have the chance to share their award-winning activities with other teachers across the country. Applications for this prize are due in the spring. You can visit the MoMath website to learn about past recipients and their activities.
Outstanding Special Education Teacher Award
The National Association of Special Education Teachers (NASET) presents this award to skilled, highly dedicated teachers in the special education field. Teachers can be nominated by parents, colleagues, district administrators or anyone from their respective schools.
Nominees are judged in the areas of teaching skills, community involvement, and professional activity and development. They must be a full-time educator and must be in at least their third year of teaching. Nominations open in early spring, close in May, and are usually announced before June.
NEA Foundation Awards for Teaching Excellence
These awards are sponsored by the NEA Foundation and the National Education Association. This is part of a program that "recognizes educators from around the country who promote both excellence in teaching and advocacy for the profession."
All current NEA members are eligible, including teachers, faculty and support staff. Each state affiliate can nominate a teacher to receive the California Casualty Award. Of those awardees, five move on to receive the Horace Mann Award. One of those five educators receives the NEA Member Benefits Award.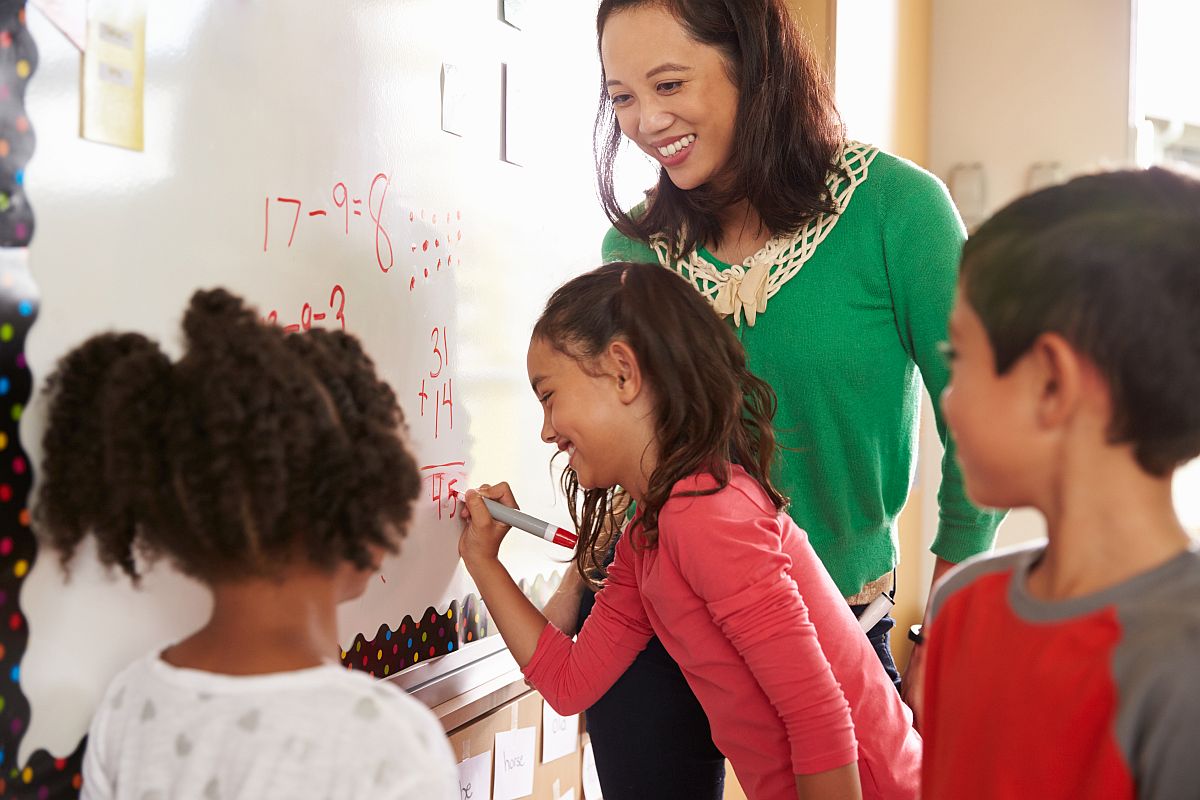 Presidential Awards for Excellence in Mathematics and Science Teaching
The Presidential Awards for Excellence in Mathematics and Science Teaching (PAEMST) are some of the most prestigious national honors for teachers of math and science. The National Science Foundation administers these merits to teachers who "have both deep content knowledge of the subjects they teach and the ability to motivate and enable students to be successful in those areas."
These awards debuted in 1983 and the President may recognize as many as 108 exemplary teachers each year. Recipients of the award receive a $10,000 prize from the National Science Foundation, a paid trip to Washington D.C., and a certificate signed by the President of the United States.
Milken Educator Awards
Since 1987, the Milken Family Foundation has recognized outstanding teachers with this prestigious award. They brand themselves as the Oscars or the Grammys of education. Far from a lifetime achievement award, this accolade showcases the achievements of early to mid-career educators who show exceptional promise.
The Milken Educator Awards are meant to recognize and thank the unspoken heroes who dedicate their lives to teaching each day. To date, nearly 3,000 awards have been handed out, totaling $70 million in awards money. Educators have the opportunity to receive $25,000 in unrestricted awards if they are chosen for this honor.
One of the best parts of this award is that recipients are caught by surprise. Their names are announced at all-school assemblies in front of students, peers and media. This creates a highly-emotional experience that truly honors the teacher.
Teacher Innovator Awards
If you know a teacher who is exceptionally resourceful and creative, he or she would be a perfect candidate for the Teacher Innovator Awards.
These accolades are sponsored by The Henry Ford's Innovation Nation, an American history museum in Dearborn, Michigan, that also produces a national TV show for kids. The goal of the show is to teach children that they are never too young to approach problems with creative solutions — and even become young entrepreneurs.
The 10 grand prize winners receive an all-expenses-paid trip to The Henry Ford in Dearborn with a five-day innovation immersion experience, a $1,500 gift card and more. Applications for the 2024 awards will open in the winter.
Outstanding Earth Science Teacher Award
The Outstanding Earth Science Teacher (OEST) awards are given to 10 national finalists each year. All teachers at the K–12 level who dedicate a significant portion of their teachings to earth science material are eligible for the prize.
The National Association of Geoscience Teachers (NAGT) presents the awards to teachers who make "exceptional contributions to the stimulation of interest in the Earth Sciences at the pre-college level." The organization has handed out these awards since 1971. Nominations are usually due by the end of March and are announced later in the year.
National Art Education Association Awards
The NAEA awards program seeks to honor individuals, associations and programs that support the mission of the National Art Education Association.
The primary goal of the awards is to focus professional attention on quality art education in the United States. Nominees are judged based on categories such as commitment, community service and professional development in art education.
The 2023 window for nominations closed in November 2022. However, you can apply for the 2024 awards later this year.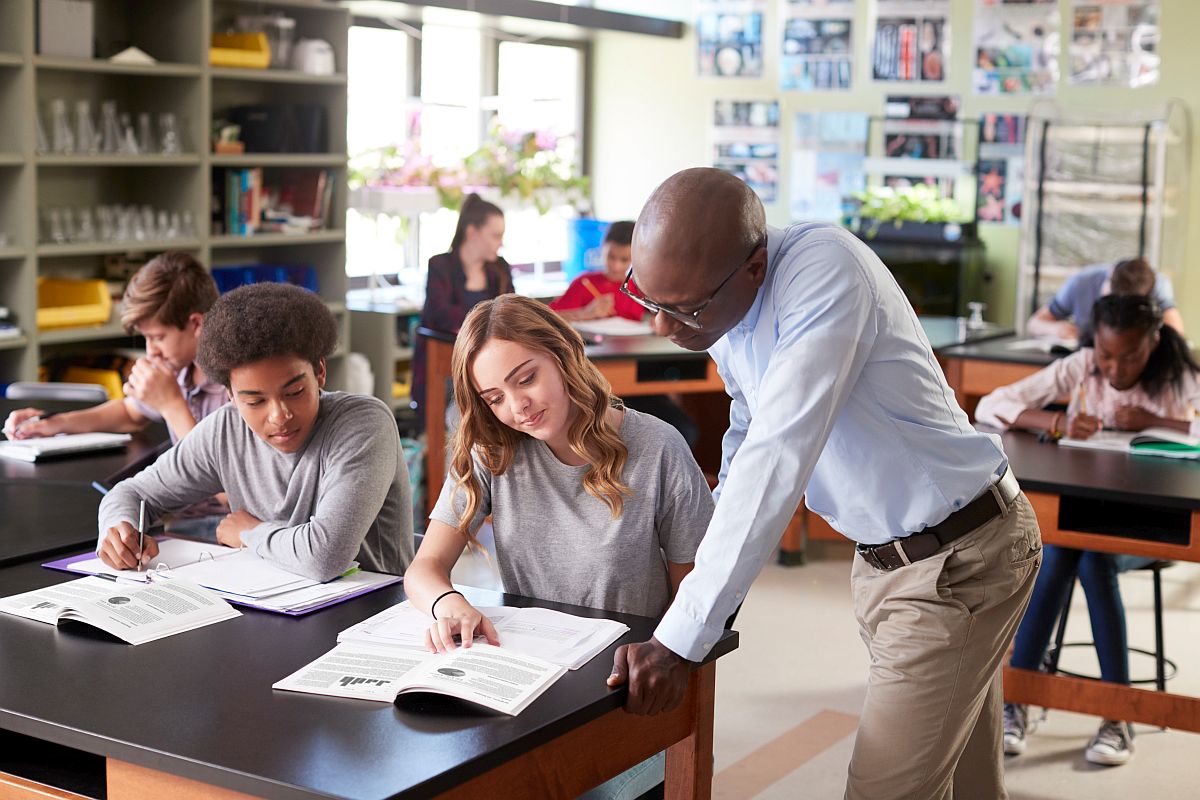 National High School Journalism Teacher Awards Program
The Columbia Scholastic Press Association (CSPA) and the Dow Jones News Fund have selected a single high school media teacher to receive the National High School Journalism Teacher of the Year award every year since 1960. A further eight high school journalism teachers and media advisers are named Distinguished Advisers and Special Recognition Advisers. The 2023 Teacher of the Year recipient has already been selected, but nominees for 2024 should open early next year.
The program "recognizes a high school educator who teaches innovative media techniques, mentors students to produce award-winning journalists, and encourages students to consider media careers."
The award is open to all teachers of high school media nationwide. Winners will receive a plaque commemorating their achievement and admission to four slots at the CSPA Summer Workshop, in classes of their choice.
NCTE Awards
The National Council of Teachers of English (NCTE) presents several awards each year. If you would like to nominate an English teacher in your life, explore the different awards they offer. These awards "recognize outstanding teachers of English language arts and literacy at all levels and support teachers' efforts to enhance their knowledge and teaching skills."
Consider nominating a favorite teacher to the High School Teacher of Excellence Award or the Media Literacy Award, as examples. To be eligible, individuals must be full-time ELA teachers at the middle school level and have at least five years of experience teaching. Deadlines change for each award, so keep an eye on the calendar if you have a particular award in mind.
Tachau Teacher of the Year Award
The Organization of American Historians presents the Tachau Teacher of the Year Award to teachers engaged in teaching U.S. history at least part time. It honors Mary K. Bonsteel Tachau, the late history teacher, for "her pathbreaking efforts to build bridges between university and precollegiate history teachers."
Winners receive a monetary prize and a one-year Organization of American Historians membership. The deadline to apply for 2023 has passed and the awards were issued at the OAH Conference on American History in early April. Nominations will open in late 2023 for the 2024 awards.
Council for Economic Education Educator Excellence Awards
The Council for Economic Education presents a set of awards to K–12 teachers who foster a strong understanding of economics both inside and outside the classroom. While the focus of the award is on economics, educators do not have to be economics teachers to receive the award.
There are multiple awards issued by the CEE, some of which come with a cash prize. Award deadlines vary throughout the year and recipients are announced a few months later. Review the current awards offered by the CEE if you know a teacher that excels in economic education.
Science Education Career Awards
These awards are issued by the Association for Science Teacher Education (ASTE). There are multiple awards available, including an award for Outstanding Science Teacher Educator of the Year and Outstanding Mentor. Applications are due at the start of June and recipients are notified later.
You can learn more about the due dates for materials, qualifications and prizes on the ASTE website. There are also awards for graduate students.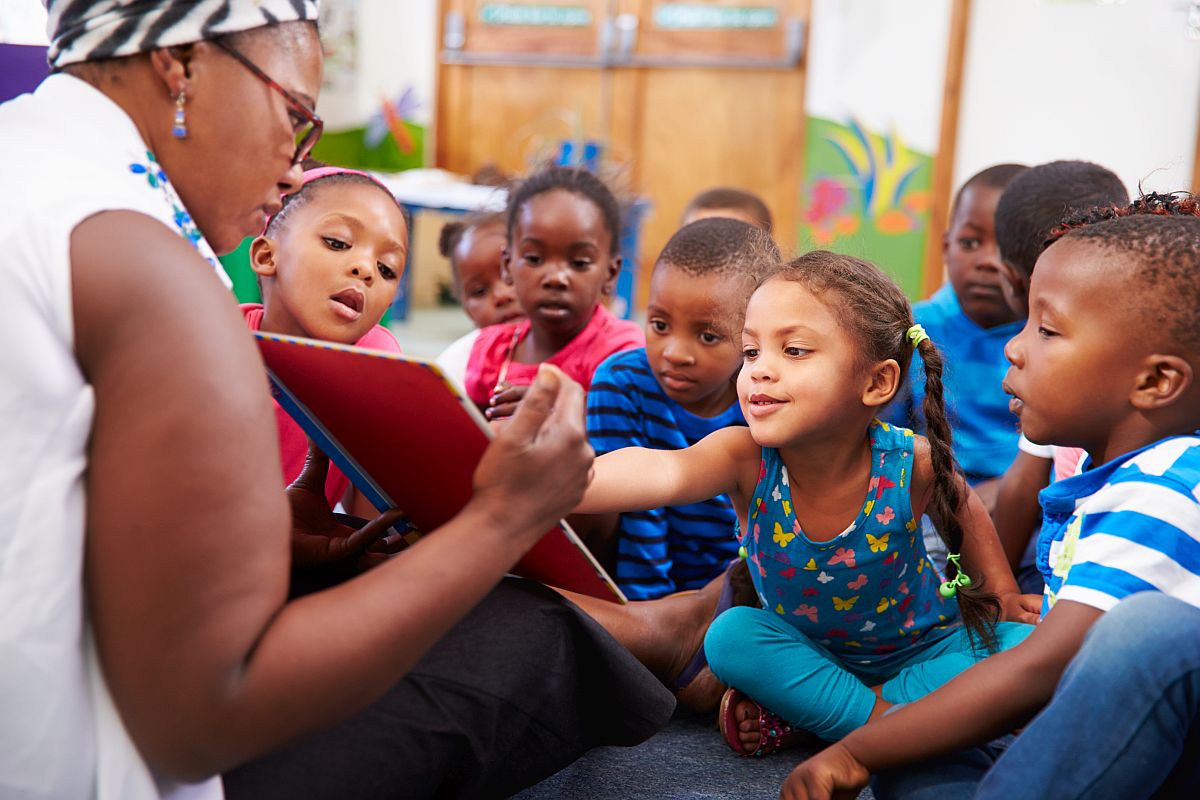 National Schools of Character Program
This annual program is sponsored by Character.org and recognizes K–12 schools and districts that demonstrate excellence in student character education initiatives. More than 3 million educators, students, parents and community members have been positively impacted by being involved with a School of Character.
Specifically, judges look for schools that have an ethic of caring, shared core values throughout the school and a connection to the community. In January 2023, 73 state-level schools and two districts were recognized. For the coming year, the mock audit application is open so you can start evaluating your school for this award.
Edyth May Sliffe Awards for Distinguished Mathematics Teaching in Middle School and High School
This MAA (Mathematical Association of America) award is focused on math teachers who promote student learning and excitement about math. Specifically, it recognizes teachers who have motivated their students to engage in one of the MAA American Mathematics Competitions.
Nominators can be students, parents, colleagues or anyone who serves as a lead AMC coach. More than 20 competition managers will receive recognition for their efforts, along with a $500 stipend and recognition on social media. They also receive free registration, housing and travel expenses to MAA MathFest. Nominations for 2023 will open later this year.
The ACTFL National Language Teacher of the Year
Foreign language teachers are eligible for this award presented by the American Council on the Teaching of Foreign Language (ACTFL). The primary purpose of the award is to draw attention to the profession of foreign language teaching and to recognize those who continue to elevate the discipline. Eligible teachers must expect to teach for the next two years and must be involved at least part-time in a foreign language teaching role.
The 2023 ACTFL Teacher of the Year was already announced and nominations for 2024 recipients should open later in the year.
National History Teacher of the Year
Educators who excel at teaching American history to K–12 students are encouraged to apply for this award. The Gilder Lehrman Institute of American History awards a $10,000 prize to the main winner, and winners at the state level receive a $1,000 prize. The teacher must have three years of experience and have a history of using creativity, imagination and primary sources in the classroom.
The deadline to apply in 2023 was April. Interested parties can wait for the application window to open again in Spring 2024.
Post updated 6/26/23. Originally published 5/12/17.
Images used under license from Shutterstock.com